The 11th World Congress on Endometriosis (WCE2011) was the largest ever congress on endometriosis. Almost 1300 delegates descended on the ancient university town of Montpellier, France, for three days of outstanding presentations, with scientists from 73 countries sharing the latest progress in our field.
Recognising where we are coming from…
This is now – but there is a past also.  World congresses on endometriosis have taken place since 1986, and the WES board of trustees chose to honour eleven outstanding pioneers in the field, whose work – presented at the previous ten world congresses – have contributed to our knowledge of endometriosis and progress in this field.
WES President Hans Evers and WES President Elect Paolo Vercellini honoured the following colleagues during the opening ceremony of WCE2011 on 4 September 2011 for their long-standing contribution to field of endometriosis:
WCE1986 – Clermont Ferrand
Robert Schenken
Dr Schenken was one of the first to emphasise the intriguing importance of microscopic lesions.
How can you treat a disease that you cannot see?
WCE1989 – Houston

Ivo Brosens
For his ideas on endometriosis as a progressive disease –  a "mushroom disease" …it made a lot of sense to all present.
Do you really believe you treat the disease by removing the implants?
WCE1992 – Brussels

Philippe Koninckx
For his work in recognising deep, infiltrating endometriosis – his contributions became seminal papers in print.
He was also nominated for his cheery attitude!
WCE1994 – Salvador-Bahia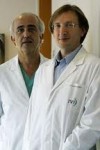 Antonio Pellicer and Carlos Simon
For their excellent attempt to unravel oocyte- and endometrium factors operative in endometriosis by means of the human oocyte donation model.
WCE1996 – Yokohama

Christopher Sutton
He was the first to perform a prospective, blinded, RCT to assess the efficacy of laser laparoscopic surgery in the treatment of pain associated with endometriosis.
WCE1998 – Quebec

Rodolphe Maheux
Landmark trial in laparoscopic  surgery that stands till today as the best evidence on the enhancement of fecundity in infertile women after laparoscopic resection of minimal or mild endometriosis.
WCE2000 – London

Stephen Kennedy
Serious tackle on genetics in endometriosis, which has proven that perseverance pays off – ten years later with the publication of Painter et al
WCE2002 – San Diego

Linda Guidice
For her work in expression profiling of endometrium from women with endometriosis, which revealed candidate genes for disease-based implantation failure and infertility.
WCE2005 – Maastricht

Ray Garry
RCT showing the benefit of laparoscopic excision of endometriosis on pain and quality of life.
WCE2008 – Melbourne

Ian Fraser
For his work in supervising a credible attack on the holy grail of the non-invasive diagnosis of endometriosis through work on nerve fibres and pain.
Looking to the future…
Needless to say, many many more have played a crucial role in moving the field of endometriosis forward, which was evident at this year's world congress.
What was also evident was the high level of science presented, and that a new generation is as keen as the one before it to get to the bottom of understanding endometriosis. Hopefully, by the 12th World Congress on Endometriosis in 2014, we'll have even more pieces to add to the puzzle!