Welcome Letter
We extend an invitation to work with us to "crack" endometriosis and adenomyosis
Please join us at the 14th World Congress on Endometriosis – a congress with a stellar reputation for delivering science and clinical progress in equal measures.
WCE2020 will be held in Shanghai, China – not only an economic powerhouse, but also a country ranked highly for scientific output in endometriosis and adenomyosis.
The World Endometriosis Society has, since its inception in 1998, remained committed to collaborative efforts to move the field of endometriosis and adenomyosis forward. These efforts include and involve all stakeholders, and our track record of output, in terms of consensuses on the management of endometriosis, as well as global research directions, speaks for itself.
WCE2020 will include every single aspect you'd expect a high quality congress on endometriosis and adenomyosis to contain.
We invite you to contribute to "cracking endometriosis and adenomyosis" through your participation in WCE2020 to advance clinical care and research – because that is what the World Endometriosis Society's work is all about: to improve the lives of all affected women with endometriosis and adenomyosis.
Please help us achieve this goal.
Abstract submission and registration will open in mid-June. Get your research ready!
Thank you – and see you in Shanghai!

Shanghai
Shanghai is the largest city in China (and arguably, for that matter, in the world) – a dynamic and vibrant metropolitan mega-city in China, and possibly in Asia, abuzz with a kaleidoscopic theatric shows, restaurants, museums, shops, and colourful night life.
If you want to visit the most vibrant mega-city in the world, which changes its skylines every five years, to see China, to see Asia, and, most importantly of all, to be with the movers and shakers in the field of endometriosis (and to touch base with old friends and to make new ones) you should definitely come to Shanghai!
Scientific Programme
More details will be available towards the end of 2019.
For questions regarding the scientific programme, please send us an email.
Organising Committees
WCE2020 PRESIDENTS
Sun-Wei Guo, China
Cong-Jian Xu, China
SCIENTIFIC COMMITTEE
Sun- Wei Guo (chair), China
Saeed Alborzi, Iran
Moamar Al-Jefout, Jordan
Catherine Allaire, Canada
Erkut Attar, Turkey
Deborah Bush, New Zealand
Young Min Choi, South Korea
Rui Ferriani, Brazil
Linda Giudice, USA
Tasuku Harada, Japan
Lone Hummelshoj, UK
Liping Jin, China
Neil Johnson, New Zealand
Harald Krentel, Germany
Jinhua Leng, China
Jun Lin, China
Xishi Liu, China
Olarik Musigavong, Thailand
Stacey Missmer, USA
Annemiek Nap, The Netherlands
Yutaka Osuga, Japan
Alexander Popov, Russia
Stefan Renner, Germany
Horace Roman, France
Luk Rombauts, Australia
Sean Tsai, Taiwan
Chii-Ruey Tzeng, Taiwan
Danbo Wang, China
Guoyun Wang, China
Xinmei Zhang, China
Lan Zhu, China
Krina Zondervan, UK
PRE-CONGRESS COURSES COMMITTEE
Cong-Jian Xu (chair), China
Hua Duan, China
Keqin Hua, China
Wei Huang, China
Jie Qiao, China
Shuzhong Yao, China
Xiaofang Xi
SOCIAL COMMITTEE
Xishi Liu (chair), China
Hong Xu, China
Hong Xu, China
Ding Ding, China
Sponsors & Exhibitors
The World Congresses on Endometriosis (WCE) are made possible because of our longstanding partnerships with sponsors and exhibitors. The World Endometriosis Society (WES) is appreciative of this ongoing support and collaboration, which enables us to move the field of endometriosis and adenomyosis forward together.
Sponsoring the 14th World Congress on Endometriosis will provide:
Outstanding access to the key international experts in the clinical management and scientific research of endometriosis, adenomyosis, and other uterine disorders
Extensive global marketing visibility to >1300 delegates
Ongoing website visibility with a direct link to your website
Strategic on-site visibility and high impact on-site exhibition spots with maximum exposure
Opportunities to identify cutting edge topical issues: clinical, pre-clinical, and research and development
Establishment of relationships with the current and future leaders in the field of endometriosis, adenomyosis, and other uterine disorders
If you are interested in supporting WCE2020 and/or exhibiting at the congress, please contact Lone Hummelshoj at the World Endometriosis Society for further details.
Supporters
WCE2020 is pleased to collaborate with the following organisations.
Registration
Registration details will be available in mid-June 2019.
For questions regarding registration, please send us an email.
Accommodation
A full range of accommodation options will become available by mid-2019.
For questions regarding accommodation, please send us an email.
General Information
Shanghai information
Shanghai, the city by the sea
Shanghai is China's largest city by population. Located right in the middle of China's east coastline, Shanghai is one of the most important industrial cities of China. Its sea and river port provides easy access to the vast hinterland. The city is divided into two parts by the Huangpu River: the older part Puxi (west of the Huangpu River) and the modern part Pudong (east of the Huangpu River).
Shanghai, a city full of attractions
Shanghai offers a variety of beautiful sights. The older part Puxi hosts the majority of attractions, shops, restaurants and museums. This includes the People's Square, a garden-style square in downtown, also known as the "Green Lung of Shanghai". It is surrounded by a number of protected historical and cultural sites and pieces of outstanding historical architecture. The 400-year-old Ming dynasty private Yu Garden is not only a tourist attraction, but also a shopping destination offering local products and famous snacks. One of the city's highlights is the Bund Historic Area that is located on the bank of Huangpu River and features popular attractions such as the Oriental Pearl Tower and the Jinmao Tower. These extremely impressive high-rises can be found in the modern Pudong.
Besides the historic and cultural zones, Shanghai offers a vast diversity of dining possibilities, such as time-honored or old villa restaurants, various amusement facilities and multiple options to relax.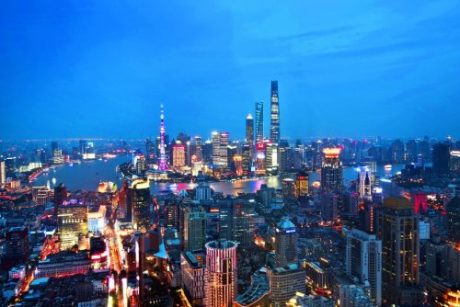 Shanghai Facts and Figures
Climate
The month of May sees pleasant weather conditions and is recommended as the best season for travelling. High temperatures include 25°C (77°F) and low temperatures can sit around 15°C (59°F).
Language
Mandarin (Shanghainese is the local dialect)
Population
24.15 million
Altitude
4m above sea level
Time Zone
Universal Time Coordinated (UTC+08:00)
TRAVEL INFORMATION
How to get to Shanghai
Airports
Arriving in Shanghai by airplane, you can choose from two commercial airports.
Pudong International (PVG) handles international traffic to and from Shanghai. Pudong International has the third highest traffic in China, after Beijing's and Hongkong's International Airports.
Shanghai's second airport is Hongqiao International (SHA) which mainly serves domestic routes. Additionally, a few city-to-city flights to Haneda Airport in Tokyo and Seoul's city airport are also offered.
Airport public transport
The extensive public transport system assists you in getting to and from Shanghai's airports. The Shanghai metro operates frequently between Shanghai's city centre, main attractions and airports. The rapid Maglev train runs between Shanghai's Longyang Road metro station and Pudong International Airport (PVG) and is convenient and easily accessible as mode of transportation.
Furthermore, the different bus lines can also be accessed in order to reach the airports, the City Air Terminal, Shanghai's railway stations, and Shanghai's main attractions. The latter includes the Hongkou football stadium, Air City Park, Lupu Bridg, People's Square, Zhenguang Community, Yangjiadu (Pudong), and Lingang New City.
For more information, please visit this website.
Taxi
The taxi fares vary according to the chosen destination within Shanghai's city centre, as well as according to the time. An additional 30% fee is charged for taxi rides between 11:00 pm and 5:00 am.
Taxis from Pudong International Airport to one of the following destinations cost approximately:
Jinqiao: about CNY 130
People's Square: about CNY 170
Shanghai Railway Station: about CNY 175
Hongqiao: about CNY 195
Hotline for Shanghai Taxi Agency: 962000
Dazhong Taxi: 96822
Qiangsheng Taxi: +86 21 62580000
Bus Taxi: 96840
Getting around Shanghai
Public Transportation
Shanghai has an extensive public transport system, largely based on buses, taxis, and a rapidly expanding metro system. All of these public transport tools can be accessed using the Shanghai Public Transportation Card.
Shanghai Metro
The Shanghai Metro rapid-transit system has connections all over the city, with stops close to Shanghai's main attractions and commercial areas. It is one of the fastest-growing systems in the world – the first line opened in just 1995 – and currently has 14 lines (numbers 1, 2, 3, 4, 5, 6, 7, 8, 9,10,11, 12,13,16 and Pujiang Line). It is advisable to avoid the rush hours between 7am-10am and 5pm-7.30pm. Metro fares run from CNY3 to CNY 9 depending on distance. For more information, click here.
Please visit this page for a detailed metro map.
Shanghai Bus
Shanghai also has an extensive bus system with nearly one thousand bus lines, operated by numerous transportation companies. Not all of Shanghai's bus routes are numbered – some have names exclusively in Chinese. Bus fares are usually CNY 1, CNY 1.5 or CNY 2, sometimes higher.
Shanghai Maglev Train
In cooperation with the Shanghai Municipality and the Shanghai Maglev Transportation Development Co., German Transrapid constructed the first commercial Maglev railway in the world in 2002. It runs between Shanghai's Longyang Road metro station and Pudong International Airport. The 30 km trip takes 7 minutes and 21 seconds and reaches a maximum speed of 431 km/h (267.8 mph). Fares for a single ride are CNY 50 and for a round trip on the same day CNY 80.
Shanghai Railway
Trains are a very inexpensive way to explore China and bring about a good opportunity to meet locals. The trains arrive at and depart from either the South Railway Station or the Railway Station in Shanghai.
Car
If you prefer driving yourself, rental cars are available. However, be cautious and avoid the congested overhead roads in the urban area inside the Inner Ring Road during rush hour, if possible.
Passport, VISA and Border Crossing Information
Any foreign visitor who wishes to enter China must have a passport, which will remain valid during the period of their stay. In order to enter China, visitors usually must comply with the conditions of their visas and authorisations of resident eligibility. However, transit visa exemptions can be made for foreign citizens of 51 different countries provided that they are transferring to a third country and that their stays are within 144 hours. During the visa exemption period, the passenger is only allowed to move around within the administration precincts of Beijing and Shanghai municipality.
For further information, please see our Visa Requirements Page below.
Banks and Currency Exchange
1 USD = 6.55375 CNY (as of September 15, 2017)
The Chinese currency is called Renminbi, abbreviated as RMB or internationally as CYN (Chinese Yuan Renminbi). The unit for Renminbi is Yuan (1 CNY), Jiao (0.1 CNY) and Fen (0.01 CNY).
Credit cards can be accepted at most hotels, tourist shops and some department stores.
One can change money upon arrival at the international airports of Shanghai. Also, the Bank of China and most hotels offer foreign exchange service. Banking Hours: Mondays to Fridays, 9:00 am to 5:00 pm.
VISA REQUIREMENTS
Prior to booking flights, registrants are strongly advised to confirm with their travel agent whether they require a VISA to travel to China.
Entry Visas
A Chinese visa is a permit issued by visa authorities of the People's Republic of China to a foreign citizen for entry into, exit from or transit through Chinese territory. Therefore, foreigners entering China in order to attend the conference in Shanghai should apply for a visa authorized by the Ministry of Foreign Affairs of People's Republic of China. On the website of the Chinese Visa Application Service Center, step by step guidance is offered. Select your visa category that best describes your trip to China and prepare your visa application including all necessary supporting documents. You can then apply for the visa in the nearest Consulate of P. R. China in your country. Submit your application, pay the application fee and pick up your visa in the end.
For more information, click here.
Disclaimer
WES does not take any responsibility for information provided on this web page. It is ultimately the delegate's responsibility to check with the Chinese Embassy in their country prior to attending WCE2020 to fulfil all visa requirements.
Pre/Post-Congress Adventures
More information will be available by the end of May 2019.
Call for Abstracts
Abstract submission will open in June 2019.
Contact
For questions regarding abstract submissions, please contact wce at icsevents.com.