Welcome Letter
We invite you to the 14th World Congress on Endometriosis (WCE2020), which will be held in Shanghai, China, 8 – 11 May 2020.
Since the last world congress was held in Asia over two decades ago, Asia is now the economic power-house of the world. China has emerged as the second largest economic entity and currently ranked as the second in scientific output in the world. In almost all OB/GYN reproduction journals, China is frequently ranked as the second, sometimes even the first, in terms of number of submitted manuscripts.
As the largest and the most populous continent in the world, Asia hosts 60% of the world population and presumably has more women with endometriosis than all the remaining continents combined.
Shanghai is the largest city in China (and arguably, for that matter, in the world) and undisputedly is the commercial, financial, cultural, and research centre – as well as a transportation hub in China – with a wide range of metropolitan amenities. It is the most dynamic and vibrant metropolitan mega-city in China, and possibly in Asia, abuzz with a kaleidoscopic theatric shows, restaurants, museums, shops, and colourful night life.
Our organising committee will work hard to assemble a top-notch programme to cover all important topics in endometriosis and its related disorders. We will strive to showcase the cutting-edge research in basic science, drug development, surgical and medical treatments, and complementary therapies that may improve the quality of life of women with endometriosis. We aim to crack this enigma!
If you are thinking of visiting the most vibrant mega-city in the world, which changes its skylines every five years, to see China, to see Asia, and, most importantly of all, to be with the movers and shakers in the field of endometriosis (and to touch base with old friends and to make new ones) you should definitely come to Shanghai!
So, mark your calendar and see you in Shanghai in 2020!
Sun-Wei Guo, PhD
Joint WCE2020 President

Cong-Jian Xu, MD, PhD
Joint WCE2020 President
Scientific Programme
More details will be available towards the end of 2019.
Organising Committees
Details about the scientific and organising committees will be available soon.
Sponsors & Exhibitors
The World Congresses on Endometriosis (WCE) are made possible because of our longstanding partnerships with sponsors and exhibitors. The World Endometriosis Society (WES) is appreciative of this ongoing support and collaboration, which enables us to move the field of endometriosis forward together.
Sponsoring the 14th World Congress on Endometriosis would provide:

Outstanding access to the key international experts in the clinical management and scientific research of endometriosis, adenomyosis, and other uterine disorders
Extensive global marketing visibility to >1300 delegates
Ongoing website visibility with a direct link to your website
Strategic on-site visibility and high impact on-site exhibition spots with maximum exposure
Opportunities to identify cutting edge topical issues: clinical, pre-clinical, and research and development
Establishment of relationships with the current and future leaders in the field of endometriosis, adenomyosis, and other uterine disorders
If you are interested in supporting WCE2020 and/or exhibiting at the congress, please contact Lone Hummelshoj at the World Endometriosis Society for further details.
Registration
Registration details will be available towards the end of 2018.
Accommodation
A full range of accommodation options will become available towards the end of 2018.
General Information
SHANGHAI INFORMATION

Shanghai, the city by the sea
Shanghai is China's largest city by population. Located right in the middle of China's east coastline, Shanghai is one of the most important industrial cities of China. Its sea and river port provides easy access to the vast hinterland. The city is divided into two parts by the Huangpu River: the older part Puxi (west of the Huangpu River) and the modern part Pudong (east of the Huangpu River).
Shanghai, a city full of attractions
Shanghai offers a variety of beautiful sights. The older part Puxi hosts the majority of attractions, shops, restaurants and museums. This includes the People's Square, a garden-style square in downtown, also known as the "Green Lung of Shanghai". It is surrounded by a number of protected historical and cultural sites and pieces of outstanding historical architecture. The 400-year-old Ming dynasty private Yu Garden is not only a tourist attraction, but also a shopping destination offering local products and famous snacks. One of the city's highlights is the Bund Historic Area that is located on the bank of Huangpu River and features popular attractions such as the Oriental Pearl Tower and the Jinmao Tower. These extremely impressive high-rises can be found in the modern Pudong. Besides the historic and cultural zones, Shanghai offers a vast diversity of dining possibilities, such as time-honored or old villa restaurants, various amusement facilities and multiple options to relax.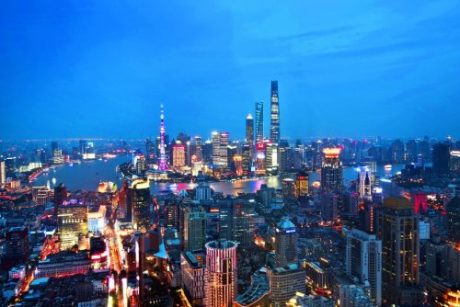 Shanghai Facts and Figures

Climate
The month of May sees pleasant weather conditions and is recommended as the best season for travelling. High temperatures include 25°C (77°F) and low temperatures can sit around 15°C (59°F).
Language Mandarin (Shanghainese is the local dialect)
Population 24.15 million
Altitude 4m above sea level
Time Zone
Universal Time Coordinated (UTC+08:00)
TRAVEL INFORMATION

How to get to Shanghai

Airports
Arriving in Shanghai by airplane, you can choose from two commercial airports. Pudong International (PVG) handles international traffic to and from Shanghai. Pudong International has the third highest traffic in China, after Beijing's and Hongkong's International Airports. Shanghai's second airport is Hongqiao International (SHA) which mainly serves domestic routes. Additionally, a few city-to-city flights to Haneda Airport in Tokyo and Seoul's city airport are also offered.
Airport public transport
The extensive public transport system assists you in getting to and from Shanghai's airports. The Shanghai metro operates frequently between Shanghai's city centre, main attractions and airports. The rapid Maglev train runs between Shanghai's Longyang Road metro station and Pudong International Airport (PVG) and is convenient and easily accessible as mode of transportation. Furthermore, the different bus lines can also be accessed in order to reach the airports, the City Air Terminal, Shanghai's railway stations, and Shanghai's main attractions. The latter includes the Hongkou football stadium, Air City Park, Lupu Bridg, People's Square, Zhenguang Community, Yangjiadu (Pudong) and Lingang New City. For more information, please visit this website.
Taxi
The taxi fares vary according to the chosen destination within Shanghai's city centre, as well as according to the time. An additional 30% fee is charged for taxi rides between 11:00 pm and 5:00 am. Taxis from Pudong International Airport to one of the following destinations cost approximately:
Jinqiao: about CNY 130
People's Square: about CNY 170
Shanghai Railway Station: about CNY 175
Hongqiao: about CNY 195Hotline for Shanghai Taxi Agency: 962000
Dazhong Taxi: 96822
Qiangsheng Taxi: +86 21 62580000
Bus Taxi: 96840

Getting around Shanghai

Public Transportation
Shanghai has an extensive public transport system, largely based on buses, taxis, and a rapidly expanding metro system. All of these public transport tools can be accessed using the Shanghai Public Transportation Card.
Shanghai Metro
The Shanghai Metro rapid-transit system has connections all over the city, with stops close to Shanghai's main attractions and commercial areas. It is one of the fastest-growing systems in the world - the first line opened in just 1995 – and currently has 14 lines (numbers 1, 2, 3, 4, 5, 6, 7, 8, 9, 10, 11, 12,13,16 and Pujiang Line). It is advisable to avoid the rush hours between 7am-10am and 5pm-7.30pm. Metro fares run from CNY3 to CNY 9 depending on distance. For more information, click here.
Pre/Post-Congress Adventures
More information will be available in 2018.
Call for Abstracts
Abstract submission will open in June 2019.