Welcome letter
Find out more at the WCE 2023 website
Dear Colleagues,
It is a huge honour for us to take over as joint presidents of the 15th World Congress on Endometriosis to be held in Edinburgh from 3 to 6 May in 2023.
WCE2021 was an outstanding conference – too many excellent lectures and presentations to pick out any for a special mention. We wholeheartedly congratulate Sun Wei Guo, Cong-Jian Xi, Lone Hummelshoj, Neil Johnson, Luk Rombauts, and colleagues – and in particular the young WES board – for delivering such a successful online meeting in the circumstances; we have heard nothing but positive comments about it.
WCE2021 is going to be a hard act to follow but we have assembled a diverse and committed WCE2023 organising committee, who we are confident will have learnt from all of the positive aspects of this virtual meeting to enable us to deliver a fully face-to-face meeting in Edinburgh in 2023 that will appeal to and be accessible to everyone with an interest in endometriosis.
→ Follow us on Twitter for regular updates!
→ Go to WCE2023.com for more information on the programme and registration!
We very much look forward to hosting you in Edinburgh in May 2023.
Yours sincerely,
Scientific programme
Details of the scientific programme will be made available towards the middle of 2022.
Organising committees
Co-presidents
Andrew Horne, United Kingdom
Philippa Saunders, United Kingdom
International scientific committee
Moamar Al-Jefout, Jordan
Christian Becker, United Kingdom
Camille Busby Earle, United Kingdom
Deborah Bush, New Zealand
Ying Cheong, United Kingdom
T Justin Clark, United Kingdom
Emma Cox, United Kingdom
Emma Evans, United Kingdom
Douglas Gibson, United Kingdom
Erin Greaves, United Kingdom
Sun-Wei Guo, China
Tasuku Harada, Japan
Jane Hellewell, United Kingdom
Lone Hummelshoj, United Kingdom
Neil Johnson, New Zealand
Stacey Missmer, United States
Kirsty Munro, United Kingdom
Annemiek Nap, The Netherlands
Katrine Petersen, United Kingdom
Horace Roman, France
Andrea Romano, The Netherlands
Luk Rombauts, Australia
Lucky Saraswat, United Kingdom
Ertan Saridogan, United Kingdom
Claudia Tye, United Kingdom
Chii-Ruey Tzeng, Taiwan
Paola Vigano, Italy
Katy Vincent, United Kingdom
Lucy Whitaker, United Kingdom
Krina Zondervan, United Kingdom
Outreach committee
Mathew Leonardi. Canada (chair)
Rohan Chodankar, United Kingdom
Leslie Farland, USA
Mira Mousa, UAE
Fitnat Topbas, Turkey
Sponsors & Exhibitors
The World Congresses on Endometriosis (WCE) are made possible because of our longstanding partnerships with sponsors, exhibitors, and collaborators. The World Endometriosis Society (WES) is appreciative of this ongoing support and collaboration, which enables us to move the field of endometriosis and adenomyosis forward together to improve the lives of those affected and their families.
Sponsoring the 15th World Congress on Endometriosis provides:
Outstanding access to the key international experts in the clinical management and scientific research of endometriosis, adenomyosis, and other uterine disorders
Extensive global marketing visibility to ~1200 delegates
Ongoing website visibility with a direct link to your website
Opportunities to identify cutting edge topical issues: clinical, pre-clinical, and research and development
Establishment of relationships with the current and future leaders in the field of endometriosis, adenomyosis, and other uterine disorders
If you are interested in supporting WCE2023 and/or exhibiting at the congress, please contact Lone Hummelshoj at the World Endometriosis Society for further details.
Registration
Registration details will be available in May 2022.
Accommodation
The venue for WCE2023 Congress – the EICC – is located in the city centre and is well serviced in terms of accommodation.
Accommodation is not included in the registration rate. Prices will change in the lead up to the congress however, as a guide, you can expect to pay the following rates:
Five Star Hotels
From £250 to £300 per room, per night, for single occupancy
From £270 to £320 per room, per night, for double occupancy
Four Star Hotels
From £130 to £230 per room, per night, for single occupancy
From £140 to £240 per room, per night, for double occupancy
Three Star Hotels
From £90 to £130 per room, per night, for single occupancy
From £90 to £140 per room, per night, for double occupancy
Two Star Hotels
From £50 to £90 per room, per night, for single occupancy
From £60 to £120 per room, per night, for double occupancy
Accommodation deals will be available in May 2022.
General Information
Congress Venue
Edinburgh International Conference Centre
Morrison Street
Edinburgh
EH3 8EE
www.eicc.co.uk
The Congress will be held in the Edinburgh International Conference Centre, known locally as the EICC, which is situated in the heart of the historic city of Edinburgh. It is just a short walk away from Princes Street, Edinburgh Castle and the Royal Mile.
The striking circular design of the Centre has made it one of Edinburgh's most distinctive landmarks. As you would expect from a world-class venue, the technical presentation and communication facilities are modern, efficient and adaptable.
Edinburgh
Edinburgh is a cosmopolitan city with a wide variety of museums, art galleries, theatres, shops and restaurants. It is a compact city and all its attractions are within walking distance or a short bus or taxi journey.
The Georgian New Town is classically elegant whilst the Old Town, with its tightly packed closes, has a medieval flavour.
Edinburgh Castle, the most famous of Scottish castles, perched on a volcanic crag that sweeps down the Royal Mile to the Royal Palace of Holyrood House, dominates the city and is well worth a visit. It is home to the Scottish Crown Jewels, the oldest Royal Regalia in Britain, displayed alongside the Stone of Destiny, the coronation stone for the Kings of Scotland.
Getting There
Edinburgh is easily reachable by air and road. Once in the city, there are vast options of public transport.
By Air

Edinburgh is served by an international airport, with connections across the world. For further information, please visit the Edinburgh airport website.
The airport is a 20-40 minute drive from the city centre, depending on traffic.
Bus
The Airlink 100 bus service, operated by Lothian Buses, will take you from the airport straight to the city centre and takes around 30 minutes.
The current cost for a single journey is £4.50 and a return journey is £7.50.
Taxi
There is a taxi rank outside the airport, or taxis can be booked by calling either of the below numbers; these companies have two of the largest fleets in Edinburgh.
Central Radio Cabs: +44 (0)131 229 2468
City Cabs: +44 (0)131 228 1211
The cost will be approximately £25.
Tram
The city's trams also offer a frequent service, approximately every 8-12 minutes, linking the airport and the city centre. The average journey time is 35 minutes.
Tickets must be purchased from the ticket machines on the platform before boarding the tram. Single adult fares are £5.50, with a return costing £8.50.
Further information can be found on the Edinburgh Trams website.
By Rail
National Rail Enquiry Service (24 hours) – Telephone: +44 (0)8457 484 950
ScotRail is the main operator in Scotland. Full details on routes and timetables can be found on their website or by downloading the ScotRail app.
The mainline rail network serves the centre of Edinburgh via two railway stations.
Edinburgh Waverley is the principal station and is situated at the east end of Princes Street.
Haymarket Station is at the west end of the city and is the closest to the EICC, around a 5-10 minute walk.
By Bus
National Express – Telephone: +44 (0)8717 818 181
All national coach services to Edinburgh arrive close to St Andrew's Square, situated at the east end of Princes Street.
Further information and advice on travelling to Edinburgh can be found here.
Pre/Post Congress adventures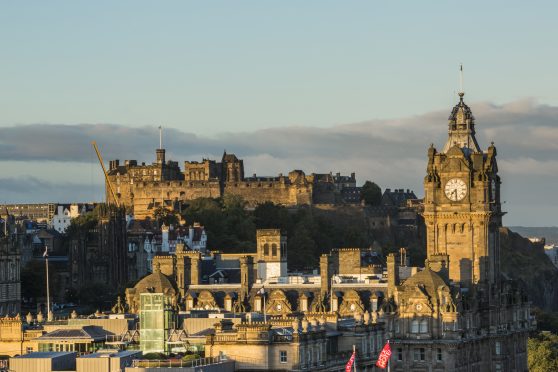 Detailed information about pre- and post-congress adventures in and around Edinburgh will be available soon.  In meantime, please check out:
Call for abstracts
A call for abstracts will be issued on 13 September 2022. Submission deadline will be 8 December 2022.
Start planning now: what will you submit to present at WCE2023?