Welcome letter
Dear Colleagues,
Earlier in the year, we promised to deliver WCE2021 no matter what – and we are! The science is too good not to share – so we are delivering!
However, after careful consideration, we must deliver the 14th World Congress on Endometriosis virtually.
We feel, with all the uncertainty around us, that this is the most responsible way for us all to "come together". After all, the health and safety of all of you (and the entire community) is of the utmost importance and is what drove our decision at this time.
Whilst we won't get to meet in person, we are committed to deliver an outstanding scientific programme and to provide a virtual experience that is accessible worldwide enabling participants to access the latest research and progress in endometriosis through a new format – both live and in your own time. There will be plenty of networking opportunities as well – we need these brain exchanges to fulfil our joint commitment to progress the field of endometriosis.
See you online from 6 – 10 March 2021.
Sincerely,
Scientific programme
Scientific programme at a glance

All presentations will be in English.
Interactive Poster Sessions
Ask questions, share your views. and keep learning, in the LIVE interactive poster sessions. Visit the "networking tab" on the virtual platform. Exclusively for LIVE attendance.
Ask questions, share your views. and keep learning, in the LIVE interactive poster sessions.
7 March 2021

15.00 – 15.30 

UTC

ADENOMYOSIS

 

15.00 – 15.30 

UTC

PA

TIENT CENTRED CARE AND PATIENT CENTRED OUTCOMES

15.00 – 15.30 

UTC

DIAGNOSTICS

15.00 – 15.30 

UTC

PHENOTYPING
8 March 2021

02.00 – 02.30 UTC

EXPERIMENTAL MODELS

02.00 – 02.30 UTC

INFERTILITY AND FERTILITY PRESERVATION

 

02.00 – 02.30 UTC

MICROBIOTA

02.00 – 02.30 UTC

PAIN AND PAIN MECHANISMS

 

02.00 – 02.30 UTC

SURGICAL

TECHNIQUES AND VIDEOS
9 March 2021

00.30 – 01.00 UTC

MOLECULAR T

ARGETS FOR DIAGNOSIS AND THERAPY

00.30 – 01.00 UTC

EPIDEMIOLOGY / RISK FACTORS

 

00.30 – 01.00 UTC

MEDICAL TREATMENT

00.30 – 01.00 UTC

GE

NETICS / EPIGENETICS / TRANSCRIPTOMIC

Accreditation statement
"The 14th World Congress on Endometriosis (WCE2021), Virtual, Canada, 06/03/2021-10/03/2021 has been accredited by the European Accreditation Council for Continuing Medical Education (EACCME®) with 18 European CME credits (ECMEC®s). Each medical specialist should claim only those hours of credit that he/she actually spent in the educational activity."
"Through an agreement between the Union Européenne des Médecins Spécialistes and the American Medical Association, physicians may convert EACCME® credits to an equivalent number of AMA PRA Category 1 CreditsTM. Information on the process to convert EACCME® credit to AMA credit can be found at www.ama-assn.org/education/earn-credit-participation-international-activities.
"Live educational activities, occurring outside of Canada, recognised by the UEMS-EACCME® for ECMEC®s are deemed to be Accredited Group Learning Activities (Section 1) as defined by the Maintenance of Certification Program of the Royal College of Physicians and Surgeons of Canada."
EACCME® credits
Each participant can only receive the number of credits he/she is entitled to according to his/her actual participation at the event once he/she has completed the feedback form. Cf. criteria 9 and 23 of UEMS 2016.20.
Please find below the breakdown of ECMEC®s per day:
06.03.2021 – 3.00
07.03.2021 – 4.00
08.03.2021 – 4.00
09.03.2021 – 4.00
10.03.2021 – 3.00
The EACCME® awards ECMEC®s on the basis of 1 ECMEC® for one hour of CME with a maximum of 8 ECMEC®s per day. Cf. Chapter X of UEMS 2016.20.
For questions regarding the scientific programme, please send us an email.
Organising committees
WCE2021 CO-PRESIDENTS
Sun-Wei Guo, China
Arnaud Wattiez, UAE
Cong-Jian Xu, China
SCIENTIFIC COMMITTEE
Sun-Wei Guo (chair), China
Saeed Alborzi, Iran
Moamar Al-Jefout, Jordan
Catherine Allaire, Canada
Erkut Attar, Turkey
Deborah Bush, New Zealand
Rui Ferriani, Brazil
Linda Giudice, USA
Tasuku Harada, Japan
Lone Hummelshoj, UK
Neil Johnson, New Zealand
Harald Krentel, Germany
Xishi Liu, China
Olarik Musigavong, Thailand
Stacey Missmer, USA
Annemiek Nap, The Netherlands
Yutaka Osuga, Japan
Alexander Popov, Russia
Stefan Renner, Germany
Horace Roman, France
Luk Rombauts, Australia
Sean SJ Tsai, Chinese Taipei
Chii-Ruey Tzeng, Chinese Taipei
Guoyun Wang, China
Xinmei Zhang, China
Krina Zondervan, UK
THANK YOU TO OUR ABSTRACT REVIEWERS
Sponsors & Exhibitors
The World Congresses on Endometriosis (WCE) are made possible because of our longstanding partnerships with sponsors, exhibitors, and collaborators. The World Endometriosis Society (WES) is appreciative of this ongoing support and collaboration, which enables us to move the field of endometriosis and adenomyosis forward together.
Sponsoring the 14th World Congress on Endometriosis provides:
Outstanding access to the key international experts in the clinical management and scientific research of endometriosis, adenomyosis, and other uterine disorders
Extensive global marketing visibility to >1200 delegates
Ongoing website visibility with a direct link to your website
Opportunities to identify cutting edge topical issues: clinical, pre-clinical, and research and development
Establishment of relationships with the current and future leaders in the field of endometriosis, adenomyosis, and other uterine disorders
If you are interested in supporting WCE2021 and/or exhibiting at the congress, please contact Lone Hummelshoj at the World Endometriosis Society for further details.
Thank you to our sponsors
PLATINUM
SILVER
BRONZE
Thank you to our collaborators
| | | |
| --- | --- | --- |
| | | |
| | | |
| | | |
| | | |
| | | |
| | | |
| | | |
| | | |
| | |   |
| | | |
|   | | |
| | | |
| | | |
| | | |
| | | |
Registration
WCE2021 is open for all stakeholders in endometriosis and adenomyosis, including:
Clinicians and surgeons who treat those with endometriosis and adenomyosis
Scientists who research endometriosis and adenomyosis
Those who have endometriosis and adenomyosis
Those who support someone with endometriosis and adenomyosis
Anyone, who wishes to contribute to moving the field of endometriosis and adenomyosis forward, should register to be part of the largest global event in advancing clinical and scientific research.
NOT YET A WES MEMBER?
Join the World Endometriosis Society now and save on WCE2021 and other WES events – it is a no-brainer (and your continued support helps us to advance care for those affected by endometriosis and adenomyosis).
PROOF OF STATUS
*Trainees, residents, low and lower middle income countries (LMIC), allied health professionals, medical students, support organisations, and advocates must provide proof of status at time of registration. List of low and lower middle income countries.
Trainee or resident (MD in training or PhD student)
Letter from supervisor
Allied health professional (includes nurses, dieticians/nutritionists, physiotherapists, paramedics, etc)
Letter from hospital or health care professional license number
Medical student (non-graduate)
Letter from supervisor/head of lab/institution or student ID card
Advocate (an individual who is suffering from or has suffered from endometriosis and/or adenomyosis)
Note from your doctor confirming status as a current or past patient.
NOTE: due to pharmacode regulations, advocates may not be permitted to attend industry supported symposia during WCE2021.
If you have any questions, please contact wce-registration@icsevents.com.
Why WCE2021
Here's what our community feels about attending WCE2021!
"I am a Health Sciences PhD student. Since being diagnosed with #endometriosis at 29 I have gone to uni to complete my MSc and BSc both with special interest in #endometriosis so that I can #letthesciencespeak and build awareness of this condition. I'm always excited about the #WCE2021 because I get to learn so much from the top scientists in the field, and learn all of the latest treatments and breakthroughs." - Jodie Hughes

"20 years of my younger life I suffered from #endometriosis . In 1999 I've got an operation in Leuven bij Prof. Koninckx for endometriosis degree 4, which had earlier caused me a P.I.D. (Pelvis Inflamatory Desease) with 10 days of severe inflamation, being treated in the hospital. 10 years later-after being totally pain free- I started studying Natural Support by food, by Bach Flower Remedies and homeopathy and nowadays I am a Natural HealthCare practitioner as a Bach Flower Consulent & Foot Reflexologist. I am in strong belief that many young women can be helped earlier and better with this ! For myself I found new ways to free myself of this desease after the operation. Since beginning of 2020 I am also member of WES. Living alone and losing the opportunity to work with people caused by 2 lockdowns, it isn't easy to free the needed money to be able to participate ... Especially because I needed to let construct a complete new roof on my little house last month... That's why I didn't register yet and why I try to win free registration. So nice all this event is being organised !!! I look forward to it if possible...#letthesciencespeak" - Carla Jo Van Geel

"I am an OR nurse and my main area of surgery is gynecology. For the past two and a half years I have focused on learning about #endometriosis and sharing the knowledge I am gaining. In the meantime, I was also diagnosed with endometriosis and even underwent surgery for it. I was registered for the original date of the #WCE2021 conference but due to the surgery, the corona, and a welcome pregnancy combination, I chose to cancel my registration to the conference. I would be happy to win the option to attend the conference, learn about new developments, spread the knowledge, and #LetTheScienceSpeak." - Sharon Grinberg

"To learn all the cutting-edge science and understand all I can about pain to share with my volunteer support group participants and allies! Knowledge is power and empowerment #WCE2021" - Kat Stanley

Excited to attend #WCE2021 to find out the latest news in #endometriosis so we can help more women suffering from it. #LetTheScienceSpeak - Iulia Ciubotariu

"I would love to participate to not miss all those many interesting webinars, new insights out of scientific research and testimonies about this heavy female hormonic pain desease which I myself had to suffer for about 20 years in my younger lifetime. So that I can support women with endometriosis diagnosis better and better." - Con Animo

"Will definitely be attending to present and learn and connect with experts all over the world (virtually!) #WCE2021" - Matthew Leonardi

"I'm participating in #WCE2021, because I look forward to learning from experts at all career levels, and communicating important conference highlights to non-specialist audiences! In doing so, I hope to increase accessibility of endometriosis research. #LetTheScienceSpeak" - Danielle Perro

"The aim of my life is to do something very useful and important for the women suffering from endometriosis, trying to get a deeper knowledge about this enigmatic disease. WCE is always giving us younger doctors a chance to hear the opinion of the experts from throughout the world, get better in the treatment and be better doctors for our patients. This opportunity will definitely give me another chance to improve my understanding of endometriosis #endometriosis, #WCE2021, and #LetTheScienceSpeak" - @ell_____lle

"I have suffered multiple symptoms for over 17 years, and was finally discussed with#adenomyosis last year (and possibly #endometriosis-pending a lap this year). Finding educated and supportive specialists has been hard and the education in these diseases has fallen on myself to do. Attending the #WCE2021 would let me learn more about these diseases (and what is going on in my own body), from a range of the most specialised professionals in their field. This will allow me to make the most informed decisions I can for future treatment options. #endometriosis, #WCE2021 #LetTheScienceSpeak" - @hellnoadeno

"I'm starting my PhD in understanding the origins of endometriosis this year. I also am a board member of the not-for-profit Endometriosis Western Australia and volunteer in their community support group. I also have endometriosis, with the onset of symptoms in my early teens yet I was not diagnosed until 27. I don't need a free registration, as I've already paid to attend! Just came to share, and I'm excited to hear about the latest research and meet others interested in ending endo. #WCE2021" - @akaiti.florence "Excited to attend the #WCE2021 to find out the latest news in #endometriosis so we can help more the women suffering from it. #LetTheScienceSpeak" - @julia.ciubt
Why attend WCE2021 live?
As Krina Zondervan emphasises above: with this virtual congress there are no travel/accommodation expenses. Combined with reduced registration fees (compared with the onsite event) the 14th World Congress on Endometriosis is affordable education and networking for everyone interested in the field of endometriosis and adenomyosis.
The World Congress on Endometriosis includes many first announcements of the field advancing clinical and scientific progress
Live access, across multiple time zones, to ~45 hours of scientific content with the opportunity to participate lin live Q&A and discussion
Online networking sessions and small group coffee breaks to catch up with colleagues we've not seen for a very long time – and to meet new collaborators
Opportunity to interact with the best in endometriosis and adenomyosis across the globe (from your own home)
Active poster sessions with the opportunity to engage with poster presenters live
Immediate access to abstracts available online
A virtual exhibit hall designed to allow interaction with exhibitors
CME!
…after WCE2021
Content and abstracts from the 14th World Congress on Endometriosis will be available online and on demand until 11 April 2021 to all registered delegates to peruse and watch again, in your own time.
If you choose to register for "on demand only", the WCE2021 content will only be available from 11 March to 11 April 2021, and there will be no opportunities to interact with presenters, vendors, or your peers.  Presentations will be available to peruse and watch in your own time but post-WCE2021 access to these does not qualify for CME.
Introduction to the platform
Tip: use the search function by typing Ctrl+F (Windows) or Command+F (Mac) to look for a specific topic
Getting started
Delegates with confirmed registrations to WCE2021 will receive an email with the title "WCE2021 Virtual Platform Access". Please follow the instructions in the email to access the virtual platform. We strongly recommend you use a google chrome web browser for an optimal experience.
Login page
Navigation
You can move through the platform by clicking on the tabs on the Menu bar located on the left, which will remain in position as you move through the different modules.
Here is a description of the menu options:
Lobby

The main starting point for the WCE2021 virtual platform

 
Sessions

View the scientific programme; click on a session to view the live stream, if the session is not currently live, see the session description

E-posters

View poster presentations organised by topics. Click on the link of the poster topic to view the posters.

Networking

Chat and interact with other attendees. Attend group networking sessions

Resources

Click to view abstracts and the scientific programme

Virtual Exhibition

View and interact with exhibitors

Leaderboard

Win prizes by claiming points

Profile

Customise how to share and receive information, how you are represented on the WCE2021 virtual platform

Help

General instructions for using and troubleshooting the WCE2021 virtual platform

Logout

Log out of the virtual platform
Lobby
After signing into the congress platform, you will arrive in the Lobby.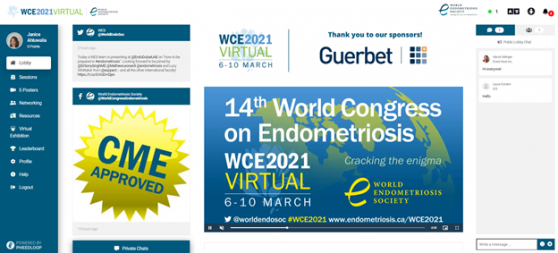 The top right of the screen has the following options to customise your virtual experience:
Navigation language

: The platform supports a multi-language system for all static content. This includes everything from pop-ups and small labels, to text fields, buttons, error messages, and more.
 

Choose from the following languages that PheedLoop currently supports: Afrikaans, Arabic, Chinese, Danish, English, French, German, Hindi, Italian, Japanese, Portuguese, Russian, and Spanish.
Accessibility settings: The AI-powered accessibility widget provides a wide array of options to adjust the user interface in basic ways (like font sizes and colours) to far more advanced options for attendees with more specific needs such as the ability to change cursor sizes, orientation adjustments, and launch virtual keyboards.

and check for message alerts.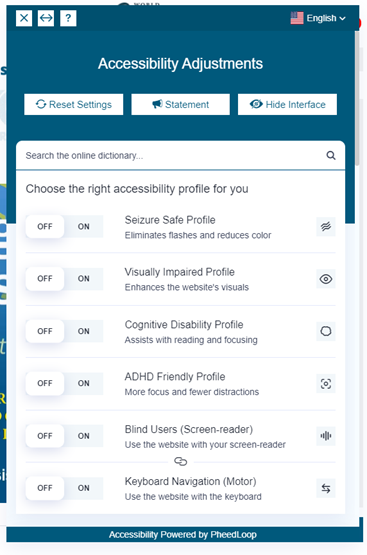 Public chat: the chat window is on the right side of the interface, with the submission field at the bottom right. Use this feature to post public messages and interact with over 800 attendees from 50 countries.
At the bottom left of the screen, you can find the Private chat window.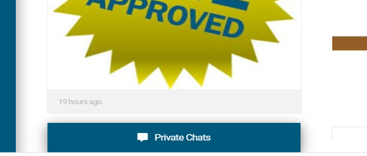 Help desk
Support staff will be available during the LIVE days to assist you with any questions or technical difficulties. If you have questions about WCE2021, chat with our team at the Help Desk. The Help Desk, accessible through the orange button at the bottom left, will be staffed during live congress hours. Before and after live programming hours, you can leave a message and the team will be in touch once the next live session starts.
You can also contact us by sending an email to WCE2021-REGISTRATION@icsevents.com.
Profile
Once you are logged in, you can update your Profile and select the Profile Visibility by clicking on the Profile tab.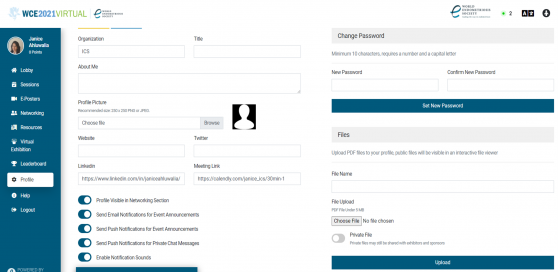 Sessions
Sessions are listed in chronological order. You can use the Search function to search the sessions by title or presenter name, or filter the program by presentation types, using the Filter function.For presentation and presenter details, click on the session you would like to view and then scroll down on the page that opens.

In case you miss a scheduled viewing, live broadcast sessions will be recorded and available to view on-demand after the congress. You can bookmark sessions by saving them to your personal schedule.

The live sessions start automatically at the time indicated on the schedule. Please click the Join Computer Audio button to connect to the audio stream. Ask questions to speakers using the Q&A button below the streaming window. You can also leave public comments, which are viewable on the right-hand-side of the pane by all session attendees.

 
E-posters
All poster presentations are available for viewing by clicking on the E-Poster tab. Use the search function to find specific e-posters or presenters. You can contact the poster presenter by sending them a message using the Networking tab.

You may also leave a comment or question for the poster in the session chat window on the right side of the screen.

Interactive poster sessions have been scheduled on each day of WCE2021 to engage with poster presenters. You can participate in these discussions by clicking on "Groups" in the Networking tab.

 
 
Networking
You can easily connect with other WCE2021 attendees from across the globe by clicking the Networking tab. A list of all attendees will appear. Use the search function to find specific people and click on Start Chat to message them directly. New messages will appear in the bell icon. To view the full chat history click on the chat button found in the Networking tab, and at the bottom left of the platform.
Click on the Groups to participate by video in theme related discussions, interactive poster sessions, and Young WES groups with up to 25 participants at a time.
To network during a live session, we recommend opening the Networking tab in a second browser window; this will prevent the live session window from closing.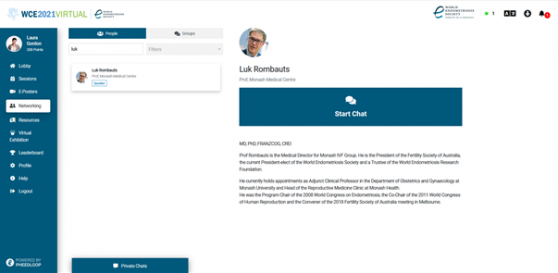 Resources
Click on the Resources tab to view the abstract book and detailed scientific programme.
Virtual exhibition
View the exhibitors' directory by clicking on the Virtual Exhibition tab. Simply click on a company name to see their information. Click Start Chat to connect with their representatives. Replies will appear in the Networking tab. Where available, you can engage in live interaction with the exhibitor. Don't forget to visit exhibitors to access a special code to collect and claim points to win prizes in the WCE2021 Leaderboard tab.
Web browser
We strongly recommend using a modern browser to participate in the virtual event. Specifically, we suggest Google Chrome for its security and feature compatibility. If you would like to download it, please click HERE.
Internet connection
A high-speed internet connection is recommended to participate in sessions without experiencing interruptions. If the stream is working, but the audio or video seems choppy, it is possible your internet connection is too slow, unstable, or bandwidth is being utilised elsewhere.
To free up bandwidth, disconnect other shared devices from your network, and close other browsers and unused programmes, as well as video apps such as Netflix or YouTube.
Troubleshooting
Try logging out and back in or refresh the web browser.
Make sure to click Join Computer Audio when you join a session.
Enter full screen mode for the best presentation experience. Click Full Screen or click the square icon at the top right of the streaming window.
We hope you enjoy the 14th World Congress on Endometriosis and look forward to seeing you online.
Presentation guidelines
All presentations and posters must be in English. All oral presentations will be pre-recorded.
Preparing your presentation slides
Use your allocated time wisely: therefore, please avoid using introductory slides on definitions, descriptions, and/or impact of endometriosis, as all congress participants know these facts already.
Your presentation should be prepared in Microsoft PowerPoint in English. If you are preparing slides on a Mac, please ensure your slides are compatible with MS PowerPoint.
The file size should be 25MB maximum.
The format of the PowerPoint presentation should be in widescreen (16:9).

Please leave the top right corner of your PowerPoint slides clear of texts and/or graphs.

The abstract title, author(s), and affiliation(s) should appear on the first slide, a requirement by the CME accrediting organisation.

The second slide must contain a disclosure statement for the presenting author. The disclosure slide is mandatory. (Please put "No disclosure" on this slide even if there isn't anything to disclose).

Logos of any for-profit organisation should not appear in the presentation slides.

Preparing your poster

You have the option to submit your poster in PDF or MP4 (slides + narration) format. The file size should be 25MB maximum.
All posters must be created using PowerPoint with a maximum of 7 slides (including title/author slide). PowerPoint presentations should be in widescreen (16:9).
Text and illustrations should be easily readable: use high-contrast colours for the best definition of your text.
Posters should be self-contained and self-explanatory.
The abstract title, author(s), and affiliation(s) should appear on the first slide, and must include disclosures.
Logos of any for-profit organisation should not appear in the presentation slides.
Poster presenters have the option to add a maximum 3-minute narration as part of their poster. This can be prepared directly through PowerPoint. Watch this training video for recording instructions. Posters with narration should be saved and uploaded as an .mp4 file. Please only upload one file (.pdf OR .mp4). The file size should be 25MB maximum.