Following yesterday's successful launch of WCE2021, today's sessions were impressive mixtures of clinical, surgical, and scientific conundrums, unmet needs, and potential ways forward in endometriosis and adenomyosis care!
The virtual platform appears to be working really well, and it allows for some excellent networking, including fireside chats, brain exchanges, and interactive poster sessions.
All WCE2021 content is available on demand within 24 hours every day to LIVE registrants, and is available to "on demand only" registrants from 11 March through 11 April 2021.
Clonal expansion of cancer associated mutations of endometriosis
The day's first keynote featured Kosuke Toshihara (Japan), chaired by Chii-Ruey Tzeng (Taiwan), addressing this hot topic.
Dr Toshihara explained how KARS, the driver gene, frequently mutates in endometriotic epithelium compared with eutopic endometrium. This may open a new avenue for possible diagnostic markers and targets for future treatment. The key take-home messages were:
Cancer-associated gene mutations were detected in both ovarian endometriosis and uterine endometrium.
Clonal expansion of epithelial cells with cancer-associated mutations was observed in ovarian endometriosis.
Single endometrial glands carry distinct mutations in cancer-associated genes.
Molecular targets / diagnosis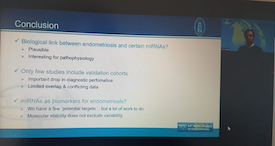 In this session, moderated and chaired by Arne Vanhie (The Netherlands) and Paola Vigano (Italy), presentations – which were all methodologically very strong – used novel models and approaches on very different topics, suggesting multiple ways forward, including:
The CD137 agonist reduces lesions and pain in a novel mouse model
Peritoneal extracellular vesicles from those with endometriosis have different markers
Cancer drivers mutations in some genes may be used to treat the disease
Interferon epsilon in the epithelium may have a protective role in a mouse model
Said Arne Vanhie:
Extracellular vesicles from peritoneal fluid and interferon epsilon were my favourite new targets. The technique of using somatic mutations to screen for therapeutic targets from the Harvard group was the most interesting novel approach

From a biomarker point of view: my bottom line is we need more focused studies in specific, clinically relevant, populations.
Fertility and fertility preservation
Laura Benaglia (Italy) and Luk Rombauts (Australia) moderated and chaired the session on (in)fertility, which concluded:
Great research on the previously unknown effects of endometriomas on follicular health and oocyte senescence;
Ethanol sclerotherapy as an alternative to ovarian cystectomy to reduce the risk of reduced ovarian reserve, but it seems linked with a higher risk of recurrence;
The importance of prevention: reduce the risk of endometrioma recurrence with the combined oral contraceptive pill until fertility wish.
Diagnosis
This dynamic session, chaired by Sebastian Schaefer (Germany), dealt with research on screening of undiagnosed patients and identification of interventions leading to awareness and education in order to:
reduce the time between onset of symptoms and the diagnosis of endometriosis
discuss the role of ultrasound and MRI in the diagnosis of endometriosis
prepare surgical procedures in preparation for the eventuality of deep endometriosis
investigate possible biomarkers for future non-invasive diagnosis of endometriosis and,
evaluate innovative diagnostic tools such as PET CT in endometriosis.
Said Sebastian Schaefer:
The aim of diagnosing those with endometriosis in the future should be to avoid unnecessary surgeries once appropriate biomarkers have been established and optimising diagnostic workup also for those patients who are still in need of surgery.
Patient centred care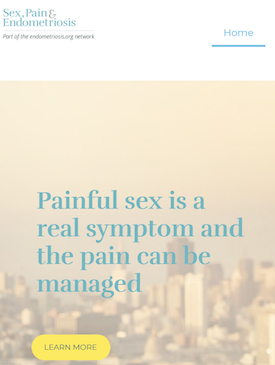 In the session on patient centred care, chaired by Andrew Horne (United Kingdom), Paul Yong (Canada) and his team launched a new website addressing "Sex, pain, and endometriosis".
The other take-home messages included:
Digitalisation of education around endometriosis is key
Remember it's not just about listening, it's about working collaboratively with those who have endometriosis
It's not just about drugs and surgery: consider the role of psychology in coping with symptoms.
Adenomyosis
In the adenomyosis session, chaired by Erkut Attar (Turkey), the excellent talks addressed pathogenesis, epidemiology, and diagnosis. Key point included:
Extracellular matrix changes may play a role in the development of adenomyosis.
It seems that there is a relationship between adenomyosis and age at menarche.
Specificity of ultrasonography is very high to diagnose adenomyosis.
We have been informed that wound healing may also be affected in women who had cesarean section.
Surgical care
The main message from today's sessions on "surgical brain exchanges" (featuring Michel Canis (France) and "surgical videos", chaired by Arnaud Wattiez (UAE), raised a lot of questions, with a main message: sharing cases and experience around the world should be a major goal – but: how do you share a 3 hour surgery in 7 minutes? Teaching good surgery remains a major challenge!
A summary from this session:
Michel Canis (France) showed in a nice video how the quality of the information provided on the screen can be clearly interpreted and translate into surgical decision and outcomes.
Xiaofang Yi (China) showed a case of laparoscopic Strassman metroplasty that resulted in the birth of twins. The indication was carefully selected and the result was there. Is this the revival of the Strassman Metroplasty?
Yechiel Bruke (Israel) demonstrated the endometriotic ureteric involvement and the extensive surgery needed to achieve a full relief of symptoms. The discussion went around whether ureterolysis was enough or whether re-anastomosis should be done. This question has to be answered by multi-centre studies.
Yun Chen (China) showed 3 videos on bowel endometriosis emphasising the need for clear a indication between shaving, discoid resection,  and segmental resection.
Finally, Lilo Mettler (Germany) showed a case of robotic radical adnexectomy for endometriosis. She clearly described the need for being complete to avoid remnant ovarian syndrome and showed that this type of surgery does not condemn the patient  to a life with infertility – rather: her patient became pregnant spontaneously.
Said Arnaud Wattiez:
In the end we have lots of unresolved questions, but lots of solutions were presented showing the possibility that we have to – and can – improve our patients' care.
Organs on chips
The second keynote presentation today was by Linda Griffith (USA), chaired by Andrea Romano (The Netherlands). In a slick and detailed presentation, Linda Griffith conveyed that:
Micro- and meso-fluidic "organs on chips" technologies are now well-developed for toxicology applications, but just beginning to be applied to disease modelling. A major technological challenge is moving away from standard "PDMS" (silicone rubber) devices to thermoplastic materials, as oestradiol and other hormones adsorb into PDMS. A first application of such approaches is endometriosis lesion models.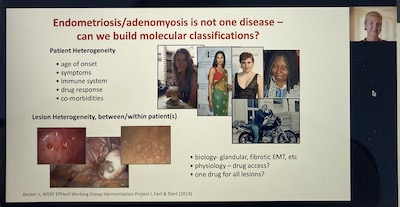 Epithelial organoid technology has transformed the tissue engineering landscape for endometriosis by enabling creation of tissue banks. The development of synthetic extracellular matrices that enable co-culture of epithelial, stromal, immune, nerve fibres, and endothelial cells is a next important step toward more complex, long term, microvascularised and innervated cultures.  The matrix described in the talk has been used by several labs and the speaker's lab will support others who wish to adapt the published approaches.
The establishment of micro- and meso-fluidic technology approaches to building perfused microvascular networks over the past 2 decades enables building endometriosis lesion models perfused by micro vessels, and doing in situ microscopy of tissue interactions with circulating cells. While these approaches are just being applied to the lesion models, and have not yet been used for the full range of lesions (eg. peritoneal lesions of different types), the technology is amenable to such models, and the speaker's lab is hoping to make them available to the community in the coming 18-24 months.
A favourite summary today?
Missing out?
It is not too late to join WCE2021 LIVE — register here AND enjoy on demand content through 11 April 2021. Attending LIVE means being able to interact with peers: Q&A and discussion in all sessions, fireside chats with keynote speakers, and brain exchanges on selected topics — and there are three more days to go!