Hans Evers, a founding member of the World Endometriosis Society and its President from 2008 to 2011, has been awarded the Order of Orange-Nassau by King Willem Alexander of the Netherlands for having earned special merits for Dutch society.
This honourable recognition is the latest in a long series of awards and achievements that have marked Hans Evers' extremely prolific professional life. He has served as President of ESHRE, is currently the editor-in-chief of Human Reproduction, and was the president of the 9th World Congress on Endometriosis that was held in Maastricht in 2005.
It was Hans who shaped the format of our triennial meeting as we now have them today, with few presentations by "key opinion leaders" and much, more input from investigators bringing in original research data from all over the world.
This successful model has stood the test of time and, in our view, is a robust indicator of Hans' overall approach to medical science: openness combined with rigour, transparency, and attention to novelties, combined with a keen eye on methodology, rejection of preconceptions and of old predefined notions.
In this regard, we recognise with pleasure and great esteem also those aspects of Hans' activities that may appear less showy, but indeed constitute the very reason why the entire gynaecological community is grateful to him.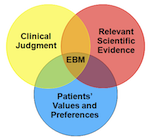 Hans introduced evidence-based medicine in reproductive science in years when few of us had ever heard of it. He taught us so much on how to critically evaluate published data, on how to interpret the findings of the latest studies, and he introduced us to the completely new world of systematic reviews and meta-analyses.
Each of Hans' presentations at meetings is guaranteed to hold the audience spell-bound: you know you are going to listen to something smart and intriguing, and he will offer an unexpected point of view even on issues that appear definitively established. The inclusion of a Hans lecture in any programme means that it is worth attending the congress. The same applies to his articles and editorials: always worth reading, as there is always something to learn from his intelligent considerations.
Above all, he has been and still is a mentor and a friend for many of us. His words are always balanced and rich in wisdom, his suggestions always precious.
And true to his element of surprise, Hans is an expert of classic rock – at least as much as he is an expert of reproductive medicine and endometriosis.
Yes, he attended the Rolling Stones' concert in Düsseldorf in June 2014: surprise surprise!
The World Endometriosis Society does not have a chivalric honour to bestow to Hans Evers, but we all warmly thank him for everything he has done and will continue to do for us and for women with endometriosis.
We look forward to continue to walk along the path that he forges.
Linda Giudice, Lone Hummelshoj, and Paolo Vercellini